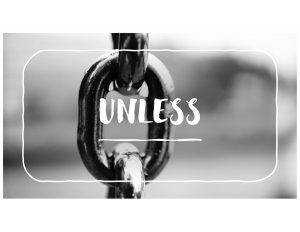 Who would have imagined ending our school year with no graduation, no awards days, no fun days, or class parties?  Who could have imagined having yearbooks that couldn't be signed by friends, or not being about to bring an end of the year thank you gift to our teacher?  March 16th was the last time our buildings were filled with God's kids lifting their praises to Him together or the last time that any of our teachers were able to pray in person with their students.  But that hasn't stopped us from worshipping!  That hasn't stopped us from praying!  In fact, I am certain that we are praying now more than ever!  What a time to belong to Jesus!  We know that He holds us.  Always.  In trails, in affliction, in times of pressing, in times of waiting, in times of uncertainty, HE IS THE ROCK.
I love what Psalm 27:13 says, "I would have lost heart, unless……"  UNLESS.  Unless what? "Unless I had BELIEVED that I would SEE the goodness of the Lord in the land of the living."  Lord, help me BELIEVE Your promises and Your Word.  Help me believe that I will SEE Your goodness!  Right here in the land of the living.  I LOOK to You, You alone are where my help comes from!  
Don't lose heart today, but look to HIM! Know that He hold you and that His plans for you are always perfect and right.  He rescues, He delivers, He saves!  Seek Him and SEE Him, He is so near.
Psalm 27
The Lord is my light and my salvation;
Whom shall I fear?
The Lord is the strength of my life;
Of whom shall I be afraid?
One thing I have desired of the Lord,
That will I seek:
That I may dwell in the house of the Lord
All the days of my life,
To behold the [b]beauty of the Lord,
And to inquire in His temple.
5 For in the time of trouble
He shall hide me in His pavilion;
In the secret place of His tabernacle
He shall hide me;
He shall set me high upon a rock.
13I would have lost heart, unless I had believed
That I would see the goodness of the Lord
In the land of the living.
14 Wait[e] on the Lord;
Be of good courage,
And He shall strengthen your heart;
Wait, I say, on the Lord!